An Inside Look at the Jaguar I-PACE Concept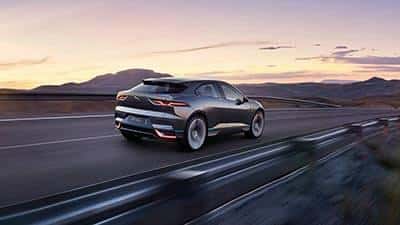 Jaguar has been known throughout Baltimore as a vehicle manufacturer that is always thinking outside the box. The Jaguar I-PACE Concept car proves this, as this impressive new model delivers all the style, technology, and innovation that other manufacturers could only dream of making. See for yourself what this new model will deliver to drivers once it becomes available.
Design
On the outside, you'll fall instantly in love with the way this new model looks. The dramatic exterior proportions highlight the design features Jaguar is known for, but with some added depth that makes it stand out on the Arnold roadways. The vehicle is also perfect for aerodynamics, which allows it to seamlessly flow through the roads.
Inside, the cabin is filled with innovation and luxury that any driver could want. The floating center console and panoramic roof give this interior an even roomier feeling than it already possesses, and the front and rear space ensures everyone will be comfortable during the ride.
Performance
The electric model will captivate attention not just because of the way it looks, but the way it handles the road. Instant torque delivers impressive acceleration when you need it, and the all-wheel-drive ensures you have no trouble handling the uneven Baltimore roads.
The I-PACE Concept also offers a high-tech, lithium-ion battery, and when fully charged, allows you to travel up to 220 miles. Plus, this electric model will not let you miss out on power, as you'll enjoy the 400 hp and 516 lb-ft of torque that's available. Basically, the I-PACE Concept delivers the sports car feeling you need.
Technology
Lots of thought went into the technology found throughout the I-PACE Concept, which is why the vehicle is so intuitive. With thorough and easy-to-use displays, you'll always be in the know about your surroundings and have access to the information you need. The Head-Up display feature also ensures your important information is right in your line of sight, so you never have to take your eyes off the road. So no matter what type of tech you crave while your cruising the streets of Arnold, you can rest assured this vehicle will provide you with what you want exactly when you want it.
Visit Jaguar Annapolis for More Information
Although the Jaguar I-PACE Concept is not currently available for purchase, it will be here before you know it. In order to be one of the first people to drive this model through Baltimore, visit Jaguar Annapolis today at 101 Ferguson Road in Annapolis, MD to stay abreast of this vehicle's launch. Want a deeper dive in to Jaguar and it's history? Learn about and Jaguar racing. While you're here, you can also check out our current inventory. Contact us today at (410) 904-3107 to learn more about the vehicle or our financing options.