2020 Jaguar I-PACE Dimensions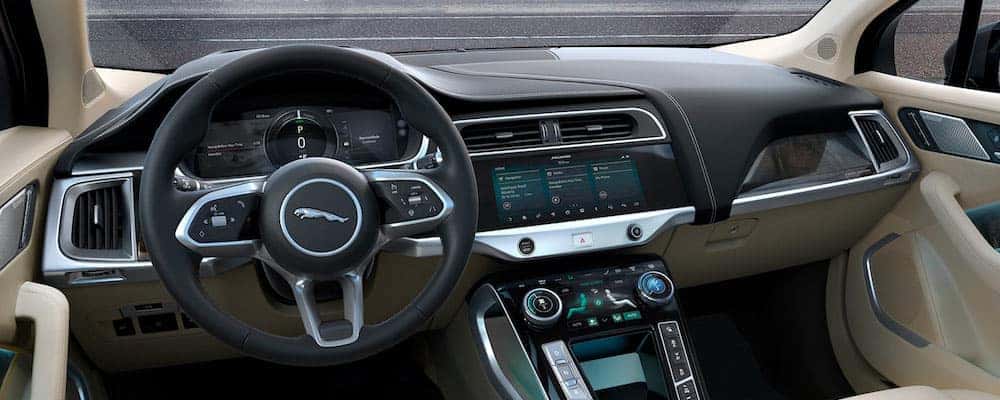 The 2020 Jaguar I-PACE is an immaculately constructed vehicle that transforms every Edgewater-area drive into a thrilling experience. Jaguar Annapolis. Not only is the 2020 Jaguar I-PACE an excellent drive, it also has the dimensions on both the inside and the outside that you need. Take a closer look at this all-electric SUV below!
Jaguar I-PACE Dimensions: Interior
One thing that makes this Jaguar electric SUV such a value over the competition is the placement of its dual electric motors. Because of their small size and placement in the very front of the car, the I-PACE interior offers an exceptional amount of legroom without sacrificing power, no matter which I-PACE configuration you choose. The Jaguar I-PACE dimensions are impressive no matter where you're seated, with front and rear legroom of 40.9 and 35.0 inches respectively.
In storage, there is 25.3 cubic feet of storage with the seats up. When you put the rear seats down, that expands to 51.0 cubic feet, allowing for everyone's things to fit inside comfortably. There is 0.43 cubic feet of storage space underneath the center console and even close to a cubic foot of storage under the hood.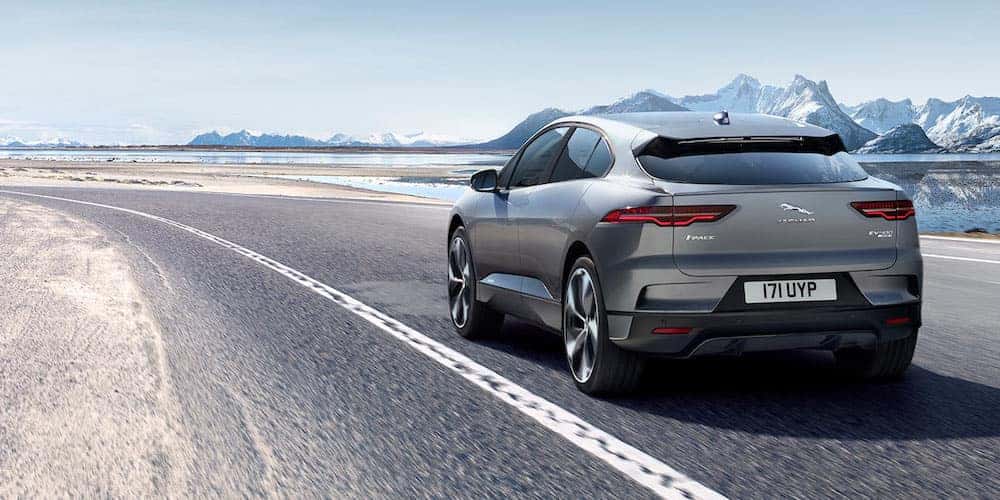 Jaguar I-PACE Dimensions: Exterior
On the outside, the Jaguar I-PACE shines as well. The turning circle for this Jaguar electric SUV is under 40 feet and this is just one area where it excels. Those exterior dimensions are listed here:
Wheel track for the 18-inch wheel — 64.7 inches (front), 65.5 inches (rear)
Wheel track for the 20-inch wheel — 64.1 inches (front), 64.9 inches (rear)
Vehicle height — 61.3 inches overall height, 5.6 inches ground clearance fully laden
Vehicle length — 184.3 inches overall length, 117.7 inches wheelbase
Vehicle width — 74.6 inches with mirrors folded in, 84.2 inches including mirrors
While you're learning about the specs that help the I-PACE to stand out, explore this electric vehicle's charging times!
Jaguar Annapolis Will Get You In a New Jaguar
Getting into a new Jaguar I-PACE and getting around Severna Park is easy. All you have to do is come to Jaguar Annapolis. We offer affordable luxury cars and a range of excellent additional values to make your driving experience a great one. Contact us today to learn more about our Jaguar I-PACE lease deals!
More on the Jaguar I-PACE
The 2020 Jaguar I-PACE is an immaculately constructed vehicle that transforms every Edgewater-area drive into a thrilling experience. Jaguar Annapolis. Not only is the 2020 Jaguar I-PACE an excellent drive, it also has the dimensions on both the inside and the outside that you need. Take a closer look at this all-electric SUV below! View Inventory…

No all-electric SUV can hold its own against the luxurious and powerful Jaguar I-PACE, but which 2020 Jaguar I-PACE configuration is right for you? Jaguar Annapolis knows how hard it can be to land on the perfect model, especially when you have so many exciting features to explore and consider. That's why we've broken down everything…

The 2019 Jaguar I-PACE is an accessibly-priced luxury electric vehicle starting at $69,500 MSRP, which makes it more appealing than competitors like the Tesla Model X. The battery-powered motor gets 234 miles of range on a full charge, and a range of high-tech and stylish features to choose from across four trim levels. Learn more about…